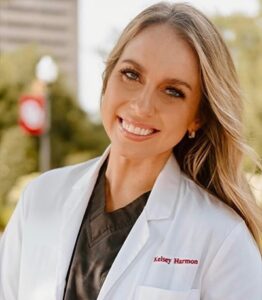 Kelsey was born and raised in Washington, Oklahoma. She obtained her bachelors degree in Health & Exercise Science from Northeastern State University in Tahlequah, OK. She then moved back closer to home for PA school and is a graduate of the Oklahoma University Health Science Center. Kelsey holds a masters degree in Health Science and is a board certified Physician Associate. 
 
She is a sports enthusiast -having played collegiate softball at NSU before extending her education at OU. She loves being active, traveling, & doing all things outdoor, including working out, hunting & fishing, being at the beach, and skiing down a snowy mountain. 
 
Kelsey gained clinical experience throughout PA school in both orthopedics and plastic surgery and this is how she found her passion in these two fields. This ultimately led to her decision to join the SOS team upon graduating to learn from and work under Dr. Adham, working in plastic surgery while also specializing in surgery of the hand. Kelsey hopes to expand the cosmetic side of things in Dr. Adham's clinic and be a source for patients to come to for help in order to feel like their best self.