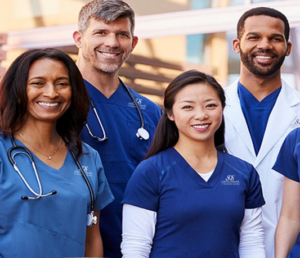 Managing multiple locations and travel plans for our many physicians takes a team of professionals and hard working staff. We have been successful because of the people who support every procedure, each patient, all surgical processes, and the thousands of behind the scene tasks. Our leadership is highly qualified and strives every day to make our services better.  We take pride in our Mission Statement, offering "Easy Access to Healthcare Excellence," and excel in providing compassionate care and effective treatment.
Our administrative office is located in South Oklahoma City at 8100 S. Walker Avenue, Building A, Oklahoma City, OK 73139. Our key staff is available to help you get the answers you need.
Chris Moslander – CEO.  Chris has been in the orthopedic and reconstructive medicine specialty for more than 10 years and has served in multiple capacities, including Chief Financial Officer and Chief Operations Officer. He holds dual degrees in Accounting and Geology from the University of Central Oklahoma and Oklahoma State University, respectively.  Chris is responsible for operation oversight of the organization.
Darla Hale – Director of Clinic Operations.  Darla has served as Director of Operations for SOS for more than 5 years. She oversees the fluidity of the operations. She has more than 25 years of experience in medical operations management.
Lindsey Rogers, CHAM – Director of Revenue Cycle,  Lindsey is responsible for overseeing revenue cycles, organizing strategies to manage profitability, and meeting the financial obligations of the group. Her vast experience includes managing patient services and coordinating EPIC systems.
Teresa Green – Director of Human Resources.  Staying abreast of the every changing human resource needs keeps Teresa on her toes and constantly learning. While she is the newest member of the management team, she brings a wealth of experience our operations. She has been managing human resources for a variety of industries for more than 20 years. Our employees and new hires are in great hands with Teresa's oversight.
Bridget Fisher – Director of Finance.  Over her more than 20 years at Southwest Orthopaedic and Reconstruction, Bridget has worn many hats – perhaps that's what makes her so adept at her position.Bridget coordinates the financial obligations of the organization while making sure that company meets it's demands.
Jennifer Massengill – Corporate Compliance Officer.  Compliance is not an easy task. Our compliance officer is charged with making sure employees receive the training they need, as well as ensuring that all policies and procedures are compliant with current regulations – supporting the SOS core values. It is often a complicated balance, ensuring our patients get the care they need, while the organization adheres to laws, regulations, and standards of conduct.
Patient Information: patientcare@southwestortho.com
Workers' Compensation: workcomp@southwestortho.com
Billing Information: billing@southwestortho.com
Southwest Orthopaedic and Reconstructive Specialists (Main Office)