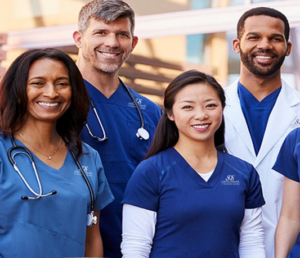 Southwest Orthopaedic and Reconstructive Specialists (SOS) is an Orthopaedic practice serving Oklahoma City, Yukon, Shawnee and the surrounding areas. SOS was first established in South Oklahoma City in 1995. Today, SOS is comprised of an extensive selection of surgeons, specializing in Orthopaedic treatment including Fracture care, Adult Hip & Knee, Foot & Ankle, Shoulder, Elbow, Wrist & Hand Surgery, Robotic Surgery, and Plastic Surgery. We have a support staff of over 90, working in areas such as front desk support, medical assistants, call center, insurance verification, surgery scheduling, medical records, and workers' compensation.
Our clinics encompass all aspects of orthopedic care, including arthritis, fractures, sprains, joint treatments, dislocations and surgery. Our orthopedic doctors and providers work closely with you to develop a treatment plan that helps you get back to a normal lifestyle as quickly as possible.
We take pride in our Mission Statement, offering "Easy Access to Healthcare Excellence," and excel in providing compassionate care and effective treatment.
Our main office is located in South Oklahoma City at 8100 S. Walker Avenue, Building A, Oklahoma City, OK 73139. Our satellite offices are located in North Oklahoma City, Yukon and Shawnee. All locations are open 5-days a week to better serve Oklahoma City and many surrounding communities. 
Patient Information: patientcare@southwestortho.com
Workers' Compensation: workcomp@southwestortho.com
Billing Information: billing@southwestortho.com
Southwest Orthopaedic and Reconstructive Specialists (Main Office)